Why thought leadership needs recalibrating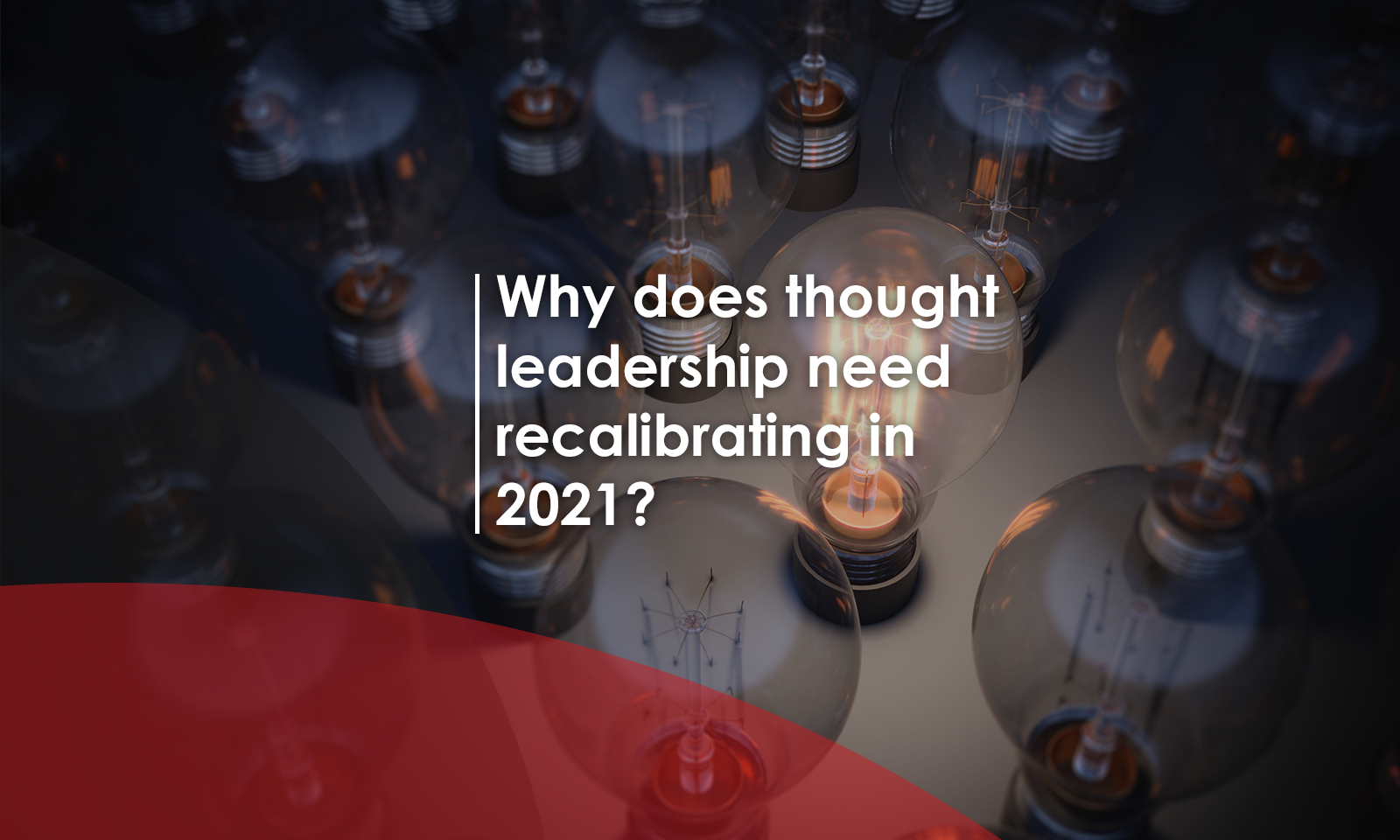 During the COVID-pandemic, the global population has been inundated with – forgive me – unprecedented amounts of digital information. Impressively, average daily content consumption doubled last year, with 48% of consumers increasing their time spent on social media and 47% increasing their time spent on news websites and apps. Whereas news was once an appointment to view – or to listen – it is now near impossible to avoid, even when the latest headlines are not actively being sought out.
We, the general public, have become habitual broadcasters of our own news cycles complete with commentary, opinion and tenuous (verging on inflammatory) styles of analysis. The language reserved for experts has been appropriated by all, and we find ourselves saturated with a flow of information as persistent as Boris Johnson's directives to 'stay alert.' The marketing industry has been set the awkward task of navigating a consumer cohort suffering from apathy, pandemic fatigue and content overload. Brands are required to balance their desire to gain visibility and custom through advertising efforts with an awareness of the fragility – and perhaps, impressionability – of a population on the edge. As uncomfortable as profiting off the behavioural changes brought about by a crisis feels, the practice remains integral to the survival of brands and businesses.
Thought leadership campaigns appear to avoid the pitfalls of opportunistic self-promotion. A brand's distribution of relevant and educational content can be genuinely valuable for their targeted audiences and for the advancement of their own brand identity. As a long-term endeavour that promises cumulative results, thought leadership is an organic and effective way for brands to generate an active social media presence and connect with their audiences.
But when exposure and engagement are the primary goals of thought leadership in a B2B context, the quality of the content can become compromised. Whilst novel and unique insight is not a prerequisite for successful thought leadership material, the repetition of subject matter across different platforms appears to be a symptom of the intense competition for consumer attention. Endless lists of dos and don'ts, top tips and how-tos simply indicate a brand's alignment with its counterparts, rather than asserting that brand's expert status or uniqueness. Non-journalistic output is already contending with the pandemic news cycle and cascades of monotonous material is a sure-fire way to deter audiences. This can, in turn, weaken a brand's integrity.
Churning out content for content's sake benefits neither party and in a climate where digital consumption is at an all-time high and public demand for "good news" is greater than ever before, thought leadership could be used as a tool for exactly this – good. By recognising their capacity to inform, shape and influence public opinion for reasons other than profit, brands and businesses could satisfy the population's personal and human needs without compromising their brand awareness.
The B2B equation isn't simply an exchange of services: it represents a mutually beneficial relationship between two businesses, each made up of clusters of individuals with their own temperamental Wi-Fi and makeshift offices, their own need for a fix of good news and, ironically, their own susceptibility to the very marketing techniques that they extoll. At a time of widespread isolation and fear it feels imperative to recognise the deeply human element to both sides of the content flow and adjust this content accordingly. We owe each other honest and transparent communication and it is the personal and professional responsibility of individuals from all industries to deliver this. Thought leadership's currency therefore lies not just in its application as a marketing tactic, but also in the innovative and original content of a well-executed campaign, that resonates beyond the 'special offer' of that brand.
To find out more about TheNewsMarket's services, visit our services page or email us at info@thenewsmarket.com. Alternatively, visit us at thenewsmarket.com